Low Residue Dog Food
Dakota says some of her friends are suffering from stomach aches and they are feeling like their food is not being completely digested. One of Dakota's friends says he had the same problem but his owner decided to feed him with Low Residue Dog Food and it helped.
Do You Want The BEST Low Residue Dog Food?

Now, there are some facts that are very useful to know about low residue dog food before giving it to our barking buddies.
For instance:
What does Low Residue mean?
What are the benefits of Low Residue Dog Food?
Do Low Residue requirements change as your dog ages?
What ingredients are found in Low Residue Dog Food?
[toc]
What is Low Residue and What are the Benefits?
This type of food is often completely absorbed and metabolized by dogs' digestive system. Easing the job of our dog's stomach and intestines is key when they are suffering or recovering from digestive issues.
Typically Low Residue Dog Food brands contain ingredients low in fiber.
Dog food that is too fibrous is harder to digest is an example of when our best friend is having trouble with their digestive process.
Low fiber makes low residue dog food a really good option to treat constipation. Some low residue products also include medicine to reduce intestine inflammation caused by digestion problems.
Another benefit given by this type of dog food and the reason why it is called Low Residue is that it considerably reduces the amount of stool produced by our dog. This is why low residue dog food is a great option for your pooch if they have recently suffered diarrhea.
Digestibility is the most important benefit of Low Residue dog food. A raw food diet (not cooked food) is often avoided because raw food can be difficult to digest. Some low residue brands are also customized for specific illnesses.
So, Dakota, if your friend with the stomach ache doesn't improve on a Low Residue Dog Food diet, tell them to see the doctor!
Benefits Of Low Fiber
While researching, we came across this video which discusses the benefits your dog will achieve by going to a Low Residue Dog Food diet that is low in fiber.
Soluble fiber is the best type of fiber. Watch and see the benefits. The number of benefits is truly amazing:
Dr. Karen Becker Discusses Dietary Fiber
What Ingredients Are Found in Low Residue Dog Food?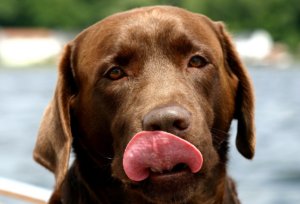 Ingredients used to produce this type of food usually consist of highly digestible proteins, healthy oils, all types of meat, fish and eggs.
Diets based on low residue food are around 60%-70% made of animal protein because they are highly digestible.
The rest of the dish on a low residue diet are filled with vegetables such as carrots, potatoes (without the skin), tomatoes, green beans.
What?!? What are you saying Dakota? You and your friends like desserts?
Well yes, there are some desserts you can have while on a Low Residue diet! Low fiber fruits are a nice treat and are very easy to digest.
These are some of the fruits you can give your buddy while they are on a low residue diet:
Melon
Bananas
Pumpkin
Avocado
Sugarless Canned Fruits
These ingredients won't harm your best friend. Remember that a diet doesn't mean you can't have a guilty pleasure every once in a while!
Is Low Residue Dog Food the Same for Dogs of All Ages?
We have to remember that as a dog ages its need for protein increases.
That is the reason why keeping a senior dog's dish with 80% proteins is good idea (it all depends on your dogs' needs).
Our younger buddies may need a more balanced diet with more vegetables being added to their dishes.
In addition, it is better for senior dogs to eat their animal protein raw to avoid rendered products that can cause them harm.
Many Low Residue Dog Food producers are aware of this and do not render dog food.
This mean high protein products are always the best option for our little buddies if they are going on a low residue diet.
As a matter of fact, some brands even deliver a line of products especially made for senior dogs in order to avoid rendered protein related issues.
The Best Low Residue Dog Food Products
We have researched based on all these aspects and found what we think are the top food products for dogs on a low residue diet.
The following products fulfill every characteristic we look for when feeding our dogs low residue nourishment.
Mainly canned protein and food low in fiber stand out in this list due to their stomach and digestive system regulating features.
Blue Buffalo Wilderness High Protein Wet Senior Dog Food
Canines evolved from wolves
, so some of their dietary habits remain.
Blue Wilderness knows this and that is why it offers a great amount of delicious meat for our little buddies.
Blue Buffalo Wilderness High Protein Wet Senior Dog Food contains healthy fatty acids such as Omega 3 and 6, protein from deboned chicken and L-Carnitine.
These ingredients promote good muscle development while still being easy to digest.
A great thing about Blue Wilderness is that it also has its own line of products for adult dogs.
So, if you have a dog of certain age you can also try the products made especially for them.
Doing this will avoid any kind of rendered protein consumption.
And, as their motto says "Love Them Like Family. Feed Them Like Family."
Nutro Ultra Wet Dog Food
Nutro provides this excellent low residue diet option for our best friend.
Most of its protein content comes from chicken broth and chicken liver.
Nutro steams this food in order to keep it as chemically free as possible.
Some excellent additions featured in this product are salmon meat which is very healthy and low in fat.
It also contains green vegetables such as spinach, alfalfa and peas which provide a great oxygenation system. This helps the digestive system work properly during the entire process.
This product is also packs minerals such as Zinc, Manganese, and Sodium. And, it features many vitamin supplements such as: E, A, D3 and B12.
Pumpkin powder and carrots serve as aid for the elimination process.
Nutro Ultra Wet Dog Food stands out as one of the best options if you are looking to help your little buddy to have healthy digestion.
Similar to Blue Wilderness, Nutro also offers many products especially made for dogs from different ages. So, just look for the age range for your dog's age on the product.
Nutro also features a lot of flavors used so let your buddy taste and choose!
Nature's Recipe Grain Free Wet Dog Food Stews
If it's the first time you feed your dog with grain free food, then trying a low residue diet with
Nature's Recipe Grain Free Wet Dog Food Stews
is an excellent way to start!
This can of food offers your buddy real chicken and turkey which represent amazing sources of protein. This helps to maintain lean muscles while at the same time helping your dog's digestive system to stay in tip top shape.
Of course, Nature's Recipe didn't forget how important and relevant carbohydrates and vegetables are to keep our buddies' energy levels high. As such, we will find delicious ingredients like sweet potatoes and green beans.
What's better for your best friend than a dish of natural, tasty and highly digestible food?
A great feature this product offers is that it is formulated for all ages and breeds.
So, if your puppy doesn't seem to be enjoying its food and wants to act like a grown-up, then maybe it's time for it to try this healthy dinner with lot's of protein and veggies!
Houston, We Have A Problem
Talk about needing Low Residue Dog Food. Owners of these dogs must require a HUGE yard:
10 Biggest Dog Breeds in the World


Conclusions: Low Residue Dog Food
As always, Dakota will encourage you to visit the vet before trying to help your buddy with real digestive problems.
Although, if you don't think your dog is having major digestive problems a quality Low Residue Dog Food may be able to help. Especially if you are only looking to control the amount of stool, or are just trying to make your best friend more regular.
If you give some of our featured products a try, and there is not underlying medical issue (again, keep your vet in the loop for major diet changes), we feel confident any of these products can ease your little buddy's digestion.
Do You Want The BEST Low Residue Dog Food?

In addition, any of our featured products are a great and complete source of protein, carbohydrates and vitamins.
Dakota says, enjoy your meal and bark a nice day!