4 of the Best Soft Dog Food Brands
Dakota says the process of choosing soft foods for your dog can take you down a rabbit hole of information, opinions, research articles, studies, and trends. But, if you break it down, you can simplify your search for Soft Dog Food Brands.
In this article we will attempt to do just that and get Dakota's opinions about each of the categories we find.
After a lot of research, we found that there are 4 main categories of soft dog food to choose from:
Canned
Freeze-dried
Dehydrated
Raw
Each of them have their own unique qualities that we'll get into. But, they all have one thing in common, to be the best of the best soft dog food brands, you have to have the highest quality soft dog food ingredients.
Do You Want The BEST Soft Dog Food Brand?

[toc]
Soft Dog Food Ingredients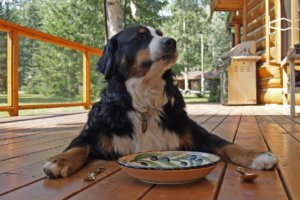 The main thing to remember when it comes to picking the best from all of the soft dog food brands for your dog is ingredient analysis.
The ingredients, particularly the first few in any food, can indicate how nutritious that food is.
Products list ingredients in the order of the percentage they take up in the food. The first ingredient you want to see in any soft dog food is meat, or meat meal.
The rest of the ingredients should be healthy and holistic components you can recognize and pronounce.
Dogs need mostly meat in their diet, but they are not obligate carnivores. They are actually omnivores.
Therefore, it is healthy and beneficial for holistic, plant-based ingredients to exist in their food as well.
Dakota wants to remind readers that a few main ingredients to avoid are corn, wheat, soy, and by-products.
These not only have been linked to allergies in dogs, but contain no nutritional components that your dog can absorb.
Dog owners should strive to always provide a grain-free diet to their pups whenever possible, to avoid unnecessary fillers and risks of allergic reactions.
Tested Safe and Healthy Ingredients
The foods we discuss below are all compliant with the AAFCO nutrient profiles. Therefore, they are tested and approved to be nutritionally beneficial for canine consumption.
While ingredients are important, meat ratios and nutritional panels are important as well.
Please note: If your dog has a medical condition such as kidney dysfunction or diabetes, you must consult your vet for any and all dietary choices. Medical conditions may mean your dog cannot process foods the same way as other pups who don't have any conditions.
Now, on to the major categories of soft food!
Dakota would like to provide a quick nutritional breakdown of each major type, so the reader can understand how to perform their own analysis on the soft dog food brands they will consider purchasing for their pups in the future.
Canned Soft Dog Foods
Canned foods can be a good supplement to your dog's diet.
Because of preservatives, numerous ingredients, and lack of freshness, we don't recommend that canned food comprise all of your dog's diet.
Rather, it should supplement kibble (or whatever main source of food you are giving).*
Other main food sources can include dehydrated, freeze-dried, or raw options (outlined later in this article).
The first kind of soft dog food brands we'll look at is canned, using AvoDerm Grain Free canned food as our example.
AvoDerm Natural Grain-Free Vegetarian
Dog Food for All Life Stages
AvoDerm is a brand that prides itself on its use of avocado, avocado oil, and other top-notch ingredients in its food, which allows the brand to cater to dogs with food sensitivities and skin issues.
Avocados are high in Omega-3 and Omega-6 fatty acids, which are beneficial to the skin and coat.
Today we'll take a look at AvoDerm Natural Grain-Free Vegetarian Dog Food for All Life Stages recipe.
This dog food contains no animal proteins or animal fats.
The primary ingredients are high quality vegetables such as:
Carrots
Canola Oil
Potatoes
Peas
Barley
Guar Gum
Blueberries
Cranberries
What does this mean?
This dog food avoids lower quality corn and wheat based ingredients.
But, that's not all…
To protect your dog's immune system, this food is rich with vitamins, minerals, and antioxidant nutrients that promote immune system function.
They also offer a variety of other soft canned options, including chicken, lamb, and salmon with beef.
Freeze Dried and Dehydrated Soft Dog Food Options
Freeze Dried and Dehydrated are two main groups soft dog foods that have had the water removed. The difference between freeze-dried and dehydrated is:
Freeze-dried food starts off fresh or cooked, then gets frozen and has its water removed. It can usually be reconstituted with water.
Dehydration is the process of removing water by using heat and moving air.
Both foods are dry with a long shelf life. They do not require refrigeration unless reconstituted.
And, their ingredient lists are often simple, short, and holistic. This is because they are mostly fresh foods.
Their nutrition is superior to that of kibble, as kibble contains many processed ingredients and fillers.
So, these options may be your dog's main food source. As opposed to canned food, which is to be used only in addition to a main food source.
For analysis, we will look at one popular brand for each: Stella and Chewy's for freeze-dried, and Honest Kitchen for dehydrated.
Stella and Chewy's
Freeze-Dried Raw Perfectly Puppy Dinner Patties
Stella and Chewy's Freeze Dried food is a fantastic option.
It comes light-weight. When you reconstitute it with water, it becomes easy to mash up and mix with kibble or canned food.
It is nutritionally dense, so it is not a problem to use as a stand-alone food as well.
Stella and Chewy's offers numerous flavors; today we'll do some analysis on the Beef & Salmon option.
Stella and Chewy's Freeze-Dried Raw Perfectly Puppy Dinner Patties meat sources are all grass-fed or wild caught, which is a huge plus.
This food is made with mostly beef and salmon; the first ingredient is beef, followed by salmon with ground bone.
After that comes a lengthy list of organic fruit and vegetable components (for example, cranberries, blueberries, beets, and broccoli). It even contains the unusual ingredient pumpkin seeds, which are rich in omega-6 fatty acids (which support healthy skin and a health coat).
This food even includes Lactobacillus acidophilus and other fermentation products, which are amazing for digestion.
This brand has the distinction among freeze-dried options of technically being considered a raw food due to its ingredients and freshness.
This is an excellent means of giving your dog the benefits of raw without having to worry about thawing or spoiling.
Its lightweight and dry nature also make it very easy to transport, so you can travel and still be able to give your dog healthy food on the go.
Honest Kitchen Grain Free Dehydrated Cage Free Turkey Dog Food
Like Stella and Chewy's, Honest Kitchen makes it's soft dog food with ingredients that humans eat.
You can eat this food yourself and not feel one bit weird about it!
While Stella and Chewy's is a little more on the firm side in texture, Honest Kitchen is ground down pretty finely; the result is a more pasty texture, which makes it easy to combine with other foods.
Today we'll analyze their Honest Kitchen Grain Free Dehydrated Cage Free Turkey Dog Food option. The main ingredient is turkey, so we're off to a good start.
After that comes flaxseed (discussed above), followed by the previously discussed (and nutritionally beneficial) potato, celery, spinach (extremely high vitamin and mineral content), carrots, and among others, coconut.
Coconut deserves a special mention, as it is high in medium chain fatty acids. It is a superfood not only for humans, but for cats and dogs as well.
Honest Kitchen has the exceptional qualification of being labeled as "human grade". This gives it superior quality.
Other flavor options include chicken, beef, fish, and duck.
Raw Soft Dog Foods
Raw dog food can be a controversial topic and highly subjective decision. There are a lot of dog owners and professionals who are recommending it.
It is definitely increasing in popularity, and therefore is becoming more widely available across different soft dog food brands as each year goes by.
If you are considering putting your dog on a fully raw or partially raw diet, many highly recommend that you buy commercially produced options (which come frozen) as opposed to trying to make your own.
The commercial options comply with the AAFCO nutritional standards, and are therefore more likely to provide balanced nutrition to your dog than a homemade recipe can.
That being said, here is a breakdown of one of the most popular raw brands, Nature's Variety.
Nature's
Instinct Grain Free Wet Dog Food
Nature's Variety is one of the most trusted brands of raw soft dog food. They put their products through rigorous quality standards testing, and have a great reputation among raw food enthusiasts.
They make their foods with 95% animal protein, 5% fruits and vegetables, and 0% grains and fillers.
Today we'll study their Nature's Variety Instinct Raw Beef and Liver Formula option. All of the ingredients listed are natural, holistic, nutritious, and easy to identify.
This is mostly made of meat and meat organs, followed by fruits, vegetables, and supplements.
Some components you might have questions about:
Montmorillonite clay is a natural source of many trace minerals. It is approved for use in USDA Organic Certified products. It binds toxins and controls diarrhea and irritable bowel syndrome (IBS).
Other protein options include chicken, turkey, rabbit, lamb, duck, and a chicken & tuna combination.
This is one of the highest quality soft dog food brands you can get. If you are nervous about putting your dog strictly on raw, or you find it too expensive, you can always just supplement with raw.
Wrap-up for Soft Dog Food Brands
As you can see, there are a lot of options to choose from when selecting a soft food for your pooch!
Dakota says don't worry – it doesn't have to be overwhelming.
It can be fun!
Feel free to play around with your choices, and see which ones your dog likes and responds to the best.
But remember, dogs can have sensitive digestive tracts. We don't recommend making drastic changes quickly. It is the best practice to introduce new foods little by little into your dog's diet.
Do You Want The BEST Soft Dog Food Brand?

The good news is that no matter what your dog's tastes or restrictions, there is a food out there for you.
We have showcased some of the top choices across the platform of soft food categories, so that you can start your quest for the best Soft Food Dog Brands with some of the best and safest options available.
Bon appétit!