4 Best Dog Food Brands For Border Collies
I think you would probably agree that your very smart canine family member deserves to have one of the best dog food brands for Border Collies. Sometimes it can be difficult to find the best dog food possible to keep that super dog brain of theirs functioning like it does.
Or, is it?
In this article, you will be able confidently select the best dog food to meet your Border Collie's nutritional and energy needs without breaking the bank.
Whether you just adopted a new puppy or your dog has been family fixture for years, there's always a "best" food for your dog. And, together we will find it.
Do You Want The BEST Dog Food For Border Collies?

So, keep reading to learn how to choose the Best Dog Food Brand For Border Collies!
To figure this out, first we will explore the history of the Border Collie. By delving into their different traits and learning their health needs we will figure out which dog food best matches the needs and wants for your loved one. So, stick with us and together we will find the best dog food brand for your Border Collie!
[toc]
Border Collies Rule! Ya Herd?
Everyone knows that Border Collies are one of the most popular breeds to keep as a pet. But there's a lot of history that has led them to become the dogs we know and love today.
Where did the Border Collie originate?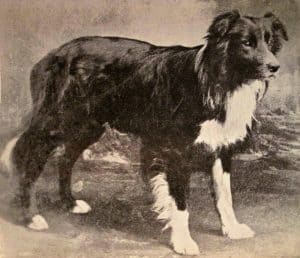 Border Collies can be traced back to Scotland, where they were bred for the purpose of helping farmers herd their livestock, keeping them from wandering off on major tracts of land.
Because of their intelligence, athleticism, and energy, they were the perfect dogs for the job.
Did you know?
All Border Collies alive today can trace their ancestry back to a single dog.
This dog. Named Old Hemp…
Old Hemp had a herding style that set him apart from other sheepdogs of his time. He used his body positioning, rather than simply barking, as his way of controlling and herding livestock.
By using his body, he was able to more effectively and quickly herd the livestock where it needed to be, making him a trailblazer for the Border Collies we know today.
But wait, there's more!
What's in a name?
You're probably wondering:
Why are they called "border collies" anyway?
Well, the term "border collie" actually refers to the geographical place of origin. Border Collies were bred on the border between England and Scotland, hence the term "border". The "collie" half of the name originates from the Celtic term meaning "useful".
And, aren't they just!
Why does this matter?
Now that we know more about the history of the Border Collie, we are starting to see some of their traits and needs that go into selecting the best dog food brands for our playful best friend.
Born to Run
As you can see from their history, Border Collies need a lot of space to… you guessed it:
Run!
They were born to run, chase, and play.
Believe it or not…
A simple walk around the block won't cut it for our Border Collies. They need A LOT of exercise. One of the most recommended ways of getting your dog the exercise they need is to engage in a lot of play activities.
Whether its chasing a Frisbee (Dakota's favorite way to play), playing catch with a ball, or long walks on the beach (another Dakota favorite), your Border Collie needs to be stimulated!
Remember:
Your Border Collie was initially bred to herd livestock, so the more exercise the better!
Now we can add "needs lots of exercise" to our list of important traits to consider when picking the best dog food brands for Border Collies.
Border Collie Traits Important For Picking A Dog Food
While history does provide some great clue for what is important for picking out the best dog food brands for Border Collies, there are some other traits that are just inherent to the breed.
Collies – Bordering on Brilliant!
Along with being very active, one of the Border Collie's most famous traits is their dazzling intellect. Training these pups is a cinch due to their natural abilities and eager-to-please demeanor. Border Collies are curious creatures, and their environment needs to be a match!
But just how smart are they?
Intelligence is something that can be hard to measure, especially in dogs! But some researchers and other dog trainers have looked into this question and discovered what so many of us suspected…
Border Collies are the smartest dog breed!
They are the top breed in various intelligence tests, including performing tasks and obeying commands quickly and efficiently. One researcher, British Columbia neuropsychologist Stanley Coren, labeled the Border Collie the smartest breed after the results of a specific test.
What test?
The neuropsychologist tested different breeds in their ability to learn new commands quickly. He gave them a command only five times and saw which breed was able to follow it with 95% success.
The Border Collie easily took the top spot!
It gets better:
The smartest individual dog in the world is a Border Collie! Chaser the dog is able to identify over 1000 different objects by learning the words associated with them. He can retrieve each toy by name on command.
Border Collies are also known to learn strange tricks and tasks their owners teach them. One man even taught his Border Collie to fetch him a beer from the fridge!
But wait…
With such high intelligence, Border Collies surely need a lot of mental stimulation. They definitely do!
Border Collies can get bored. And a bored dog can certainly find its own entertainment….much to the expense of our shoes or furniture!
So let's add "needs mental stimulation" to our list of traits to look out for when selecting the best dog food brands for Border Collies.
Other Traits to Consider
Although there are a certain traits that immediately come to mind when thinking about this breed, there are few other characteristics we need to consider in our quest for the best dog food brands for Border Collies.
They are:
Strength
Quickness
Agility
Obedience
Focus
Social Needs
Protectiveness
Why does it matter?
We need the full picture of their personality to properly aim for the best dog food brands for Border Collies!
Different breeds have different needs. With this background knowledge of the breed, we are better able to provide the best nutrition for our Border Collie.
Your Border Collie's Dietary Needs
Let's get down to business.
Now that we understand the history and personality traits of our Border Collie, we can start to explore what they need in their food.
Remember:
Your Border Collie needs the best dog food that will provide fuel for physical and mental stimulation, as well as energy to be focused, agile, and intelligent.
But, what does that mean?
That means that the dog food you choose must contain the nutrients needed to fuel the activities and traits your Border Collie is known for!
But, What Do I Look 'Fur'?
There are always a few things to look out for when choosing the best dog food brands for your Border Collie.
Protein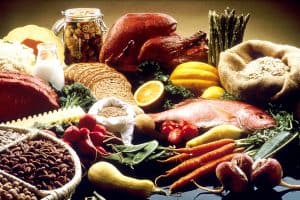 Your Border Collie loves to learn new tricks and run for long distances.
Protein is the best fuel for those kinds of activities.
It helps strengthen their muscles and promote healthy skin and fur development.
It also helps them to focus their attention and boost their mental flexibility.
Depending on how old and how active your Border Collie is, the recommended amount of protein is:
Puppy/Very active: 22% protein, 18% fat
Adult/Active: 25-30% protein, 10-15% fat
Older/Not very active: 22-25% protein
The best proteins are those that are highly digestible, like salmon and lamb. Try to avoid meat byproducts!
Calcium
In order for your Border Collie to have the energy to play (like they desperately want), they need calcium!
Calcium is a nutrient well known to promote strong bone growth and healthy joints.
Finding a dog food high in calcium will ensure that your pooch is strong enough to play fetch and chase the kids!
Carbohydrates
Border Collies need to exercise and run for long periods of time and several times throughout the day.
Finding a food that provides those slow-burning carbohydrates will give them the boosts of energy they need to fulfill those needs!
Experts recommend no more than 10-15% carbohydrates in your dog's diet.
The best carbohydrates for your pup include oatmeal, peas, and sweet potatoes. Try to avoid foods with corn syrup or sugars, as well as corn, soy products, and wheat.
Bottom line:
When your Border Collie is getting the nutrients they need, you are being the best Border Collie owner you can be.
Let's Paws to Consider Allergies
Many dog breeds have sensitivities when it comes to their food and Border Collies are no exception!
Although it is said that they tend to suffer less from food allergens than other breeds, it is wise to keep an eye out for typical allergens that show up in dog foods.
Watch out for these ingredients:
Corn
Soy
Wheat
Artificial colors, flavors, sweeteners, or preservatives
This doesn't mean you must avoid these altogether, but if you notice your canine is having an allergic reaction to their food, these are the best ingredients to look to eliminate!
Dakota's Four Best Dog Food Brands For Border Collies
Now that we know what to look for in our dog food, let's take a look at what Dakota Says are the best dog food brands for Border Collies!
Well isn't that a mouthful!
Everything you want, right there in the title. Our Border Collies need high protein (with real meat) to get the energy they need.
When it says high protein, they aren't kidding! This dog food also uses other parts of the animal for protein, like organs, cartilage, and bone, which provide additional nutrients.
But, from what animals you ask?
ACANA only manufactures from free-run poultry and wild-caught fish.
This dog food avoids those harmful ingredients like gluten and tapioca, while keeping nutrient-rich vegetables, which provide a fresh taste for your canine.
As dog food brands go, you can't get much better than ACANA. They create their products in their DogStar Kitchen in Kentucky, locally sourcing their ingredients from Appalachian ranches and local farmlands.
Can you say fresh?!
Second on our list comes from our trusted friends at Purina.
Clocking in at 26% protein, this dog food is sure to kick start your Border Collie's engine. It gets to this protein level by having real chicken as it's first ingredient.
It is specifically designed to improve focus, using fish oil to stimulate the brain and improve vision.
This dog food also has a secret weapon: EPA. An omega-3 fatty acid, coupled with glucosamine, which team up to support healthy joints and mobility. That'll come in handy for your Border Collie's herding tendencies.
To keep your Border Collie regular and healthy from a digestive perspective, Pro Plan includes a natural prebiotic fiber.

And, with 12% fat content, the protein to fat ratio is very beneficial for your Border Collie.
Coming up third on our list is this dog food from Hill's Science.
It is specifically designed to promote healthy mobility (and it doesn't hurt to have a Border Collie on the bag!).
With chicken as the first ingredient, this #1 Veterinarian recommended dog food's got it all.
From fish oil, glucosamine, and chondroitin to clinically proven antioxidants, vitamins C and E, this dog food has healthy joints and a healthy immune system covered.
It even guarantees that your dog will show improvement in their mobility in just 30 days!
If you weren't already convinced, this dog food also has no artificially flavored, colored, or preserved ingredients.
It contains a precise nutritional formula that targets healthy skin, a healthy coat, and of course, healthy joints.
If you are in the process of or looking to train your Border Collie, the best motivation is positive re-enforcement using treats!
Dakota included this product as it is highly recommended among experts and professional dog-trainers alike.
With less than 3 calories per treat and chicken as its first ingredient, these delectable little treats are sure to have your pet obeying commands even quicker than they usually do! All while maintaining a healthy lifestyle and a balanced diet.
These yummy bites also feature cherries and turmeric without soy, corn, or wheat. They also don't include any artificial coloring or flavoring.
All of this makes Zuke's a treat that your Border Collie will love!
You will want a favorite treat like this to teach your Border Collie these cool dog tricks like the folks at DogTime have put together.
For example, watch this Border Collie and how quickly she learns how to "kiss" using a treat like Zuke's:
'Howl' I Know Which Food is Right?
At the end of the day, the best dog food brands for Border Collies are the brands that have a healthy protein to fat ratio, contains the nutrients and vitamins they need, and skips out on the artificial flavors, colors, and preservatives!
Another sign you found a great dog food for your pup is if they gobble it down without abandon when you put it in their bowl!
So what's the bottom line?
If you've found a tasty food your dog enjoys and one where they are able to do all the things they love to do from a mental and physical perspective, you've found the best dog food brand for your Border Collie!
Wrap It Up: Best Dog Food Brands For Border Collies
Border Collies are strong, fast, intelligent, and energetic. We can easily see where they get these characteristics if we simply look through their history from the border between Scotland and England to our living rooms today.
Your dog's food should fuel all of their traits!
Once their needs become apparent, the choice of dog food becomes simple.
Do You Want The BEST Dog Food For Border Collies?

Dakota has done the research and provided you with several options that meet these very needs to be The Best Dog Food Brand for Border Collies.
I hope you found this an interesting and informative read. Best of luck choosing the best food to fuel your Border Collie's natural speed, intellect, and agility while also keeping them healthy and busy!