Best Dog Food Storage Container
If you are like me, you are finding it to be very difficult to keep large bags of dog food fresh and also safe. What we both need is to find the Best Dog Food Storage Container.
So, I did some research and figured out how to solve this problem! In this post I will share my research so you don't have to waste a lot of time figuring it out on your own.
I like to purchase our dog food in large quantities. When you have a hungry puppy (or two), buying in bulk saves a lot of money!
Do You Want The BEST Dog Food Storage Container?

While researching, I found out a LOT!
Things like why high quality dog food storage is important. Also, what materials to avoid for a safe dog food storage container. I researched plastic. Don't miss my warning about some issues with certain plastic containers. And, I put together a list of the Best Dog Food Storage Container products on the market that keep your dog food fresh and most important, your best friend safe.
[toc]
Does Your Pooch Seem To Like Their Food A Little Less?
What's happening here?
I have noticed that Dakota sometimes just isn't nearly as enthusiastic about her food. At first, I thought the food was just Old News. And, I would try new brands to give her some variety.
But, it seemed like there was a pattern. So, having a science background, I started paying attention and tracking things.
After months of gathering data, I noticed that Dakota loses the most interest in her food as she gets to the bottom 20% of the bag.
But, then I read that the freshness of dog food affects how good the food tastes (and the quality of nutrients). So, I started asking myself:
How can I fix this? How can I keep Dakota's dog food fresh like I've just opened the bag?
The answer was of course obvious: by using the Best Dog Food Storage Container. This way I'm able to store Dakota's food in a handy vessel perfectly designed to keep it safe and clean.
Why does this matter?
What Makes Food Storage So Important?
First of all, I'll clarify why food storage can be as important as your dog's food itself. The lack of proper storage can cause serious problems regarding your dog's food quality.
Here are some of the advantages to picking the Best Dog Food Storage Container:
Freshness: It will keep the food fresh and help maintain the food's nutritional value. Poor storage can cause a loss of flavor and changes in texture (especially for crispy food).
Convenience: It's practical! Many containers come with wheels so you can transport food easily. Some are split into different compartments if you want to separate two or more different types of food.
Safety: Did you know many kinds of plagues can come from the sink and the sewers? With an enclosed container, you won't attract rodents or cockroaches! Also, a great dog food container will keep the dog food completely clean and protected from bacteria.
By using a container you assure your dog's safeness and health. Just like with humans, food is a very delicate part of a canine's life. The diseases dogs can catch from rodents are frightening!
What Materials Should Be Used In A Container?
There's not a wide range of materials to choose from when talking about dog food storage containers. Nevertheless there are some key aspects you may want to take into account before buying one for your little barking friend.
Here's the deal:
The two major materials most containers are made of are stainless steel and plastic. When I compare each one I can see some clear differences (can you?):
| Stainless Steel | Plastic |
| --- | --- |
| More expensive | More affordable |
| Way more durable and resistant | Endurance depends on how thick and tough the plastic is |
| Nearly indestructible (at least by dogs' teeth) | Very prone to be destroyed by biting and chewing |
| No smell | Plastic can smell a lot, especially when the container is new |
For me, there are some clear advantages to stainless steel. However, the final decision depends on personal preferences, your pocketbook, whether your dog is a chewer (or if your storage location is safe from teeth).
If your pooch is a chewer, you might also think about giving them an alternative chew toy to distract them from the dog food container.
Also, there are some dogs that may be allergic to plastic or adverse to strong smells.
When a plastic container is first bought, the smell can be a real turn off! Especially since a dog's sense of smell is so much more sensitive than your own.
Careful with Plastic!
Even though, plastic containers are an excellent and very practical option, many people have concerns about BPA plastic. BPA stands for Bisphenol A which is an industrial chemical.
Companies have been using this chemical for plastic and resins production for more than 50 years. With the passing of time, research has shown BPA can affect food and beverages if the containers used for storage are made with this chemical.
This chemical is reported to affect people and animals equally.
Some of the reported issues related to BPA seeping into food and beverages are:
Increase in blood pressure
Changes in sexual behavior
Decrease in the quality of sperm
Alteration in parental behavior (dogs can become aggressive against their offspring)
What's the real story?
Scientific results have been mixed. The United States has been slow to adopt regulations banning BPA. Many believe that money is keeping BPA on the market.
So, I say… Why take the chance?
Our safest recommendation is:
If you want your choice of the Best Dog Food Storage Container to be made of plastic, please make sure it's a BPA-free plastic so it does NOT figure to be harmful for your pooch!
Our Best Dog Food Storage Containers
Taking into account all of the research above, Dakota and I have come up with a specific list of food storage containers that are not only practical, they keep your food fresh and safe.
So, spend a little on the front end to allow yourself to purchase in bulk. Once your Best Dog Food Storage Container is paid off from your bulk dog food purchases, all savings after that are pure profit!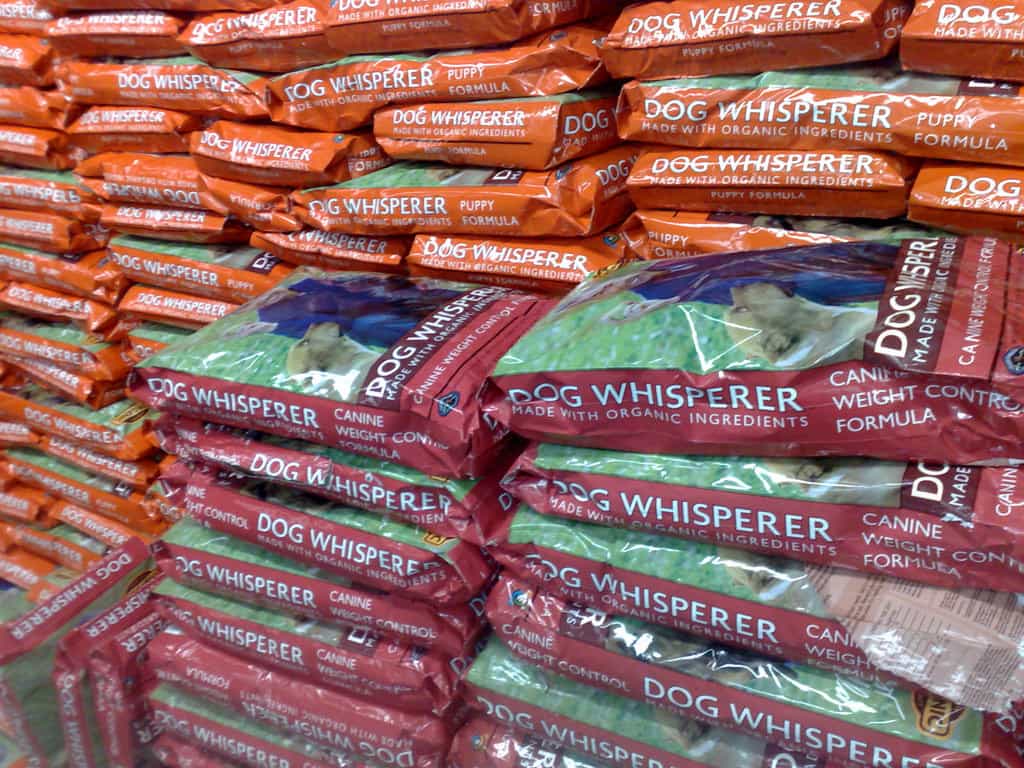 "Dog Whisperer dog food" by diaper, via Flickr (CC BY 2.0)
IRIS Airtight Pet Food Storage Container
This is one of most favorite pet food storage containers you can find. You only have to take a quick look at the reviews!
What's the real story?
I can say it clearly does its job!
A light-weight container with a translucent body allows you to be aware of how much dog's food is left.
The IRIS Airtight Pet Food Storage Container also an excellent product that keeps food dry thanks to its airtight seal. The snap-tight hitch ensures that moisture, bacteria, humidity, heat and other undesired exterior factors stay on the outside.
It comes in different sizes: 11-Quart, 12-Quart, 33-Quart, 47-Quart and 69-Quart.
The wheels provide easier transportation and the plastic is 100% BPA free plastic. So, you don't have to worry about it affecting your dog's food.
This is an excellent option for big bags of dog food. Or, maybe if you have multiple dogs.
simplehuman Brushed Stainless Steel Medium Pet Food Storage Can
If you have a small dog and want a hermetic and compacted stainless steel container to store its food then simplehuman is likely the right option for you.
This beautiful and efficient container features an airtight seal which keeps food fresh with a very secure and strong lock-tight handle.
Designed to fit perfectly in your pantry!
It has an inner bucket made of BPA-free plastic to soften the cleaning process making it easy to keep the food storage area impeccable.
The simplehuman Brushed Stainless Steel Medium Pet Food Storage Can also features a pair of in-built mini wheels and comes with a convenient scoop to serve your dog's meal.
But, that's not all…
The scoop attaches to the lid so you don't have to ever worry about losing it!
This sleek design can fit anywhere in your kitchen and no one will even notice it's there. It might even be the best looking container in your container arsenal providing an upgrade in visual appeal.
It's a very stylish way to keep your dog's food well-preserved. Moreover, it also comes in larger sizes all the way up to 50 lb.
Vittles Vault Stackable Pet Food Container
Do you have several barking friends in your house?
Are typical dog food containers not big enough for all the food you need to store?
Then the Vittles Vault Stackable Pet Food Container is what you need to solve your problems.
The largest size container stores no less than 80 pounds. And, the lid for all of the sizes closes with an airtight seal to keep your dog food perfectly fresh.
The heavy duty design is complemented with an easy access latch that makes serving an easy and fast process. Cleaning it is very simple and the BPA-free plastic material is resistant and long lasting.
If there's not enough room for your dog food or you need to store different flavors for different pets, then this stackable design is perfect for you because all of the sizes are designed to form fit stack with the other Vittle Vault containers.
The different sizes are: 5 lb, 10 lb, 25 lb, 50 lv and this one of 80 lb. A simple and reliable design with the possibility of a practical upgrade.
The material is described as thick and tough like a snow shovel. So, it would take an animal a long time to gnaw through the exterior. And, with the air tight lid, animals won't really know that there's anything good inside.
Wrap Up: Best Dog Food Storage Container
In this article I found that BPA-free plastic is the way to go if plastic is your final choice.
I also learned that an air tight seal is very important to extend the life of your dog food.
Do You Want The BEST Dog Food Storage Container?

I also was able to research and find three fantastic products that I believe satisfy the low end and the high end markets. Just make sure you do buy the Best Dog Food Storage Container!